Read : 2706 | Print : 152 | Sent : 0 | Rate : 1
07/09/2011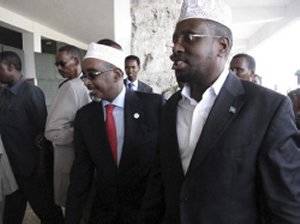 Somali leaders have signed a "roadmap" for the formation of a government to replace the fragile transitional body that has failed to bring peace to the fragmented country.
"We are clearly committed to implement this roadmap, the Somali people have suffered a lot," said Somali President Sharif Sheikh Ahmed.
"We want the Somali people to be secure, to lead them to prosperity," Ahmed added.
The roadmap was adopted on Tuesday, the last day of a three-day
national reconciliation conference
in Mogadishu, the Somali capital. The meeting was the first major political event of its kind in four years.
Somalia's prime minister, as well as representatives of the breakaway Puntland region, the central Galmudug region, and the pro-government militia Ahlu Sunna Wal Jamaa signed the deal.
Representatives of the United Nations, African Union, Arab League and East African peace bloc, the Inter-Governmental Authority on Development (IGAD), also inked the agreement.
James Swann, the US representative to Somalia, said he was "particularly pleased by the broad participation" at the conference, but also warned of challenges ahead to implement the deal.
"The roadmap gives us a set of benchmarks, some of them with tight deadlines," he said, speaking at the conclusion of the meeting.
"We have to look at them closely to make sure they do indeed stay on track."
Deadline for reforms
The meeting was the latest in what has been more than a dozen attempts to resolve the embattled country's more than two decades-long civil war.
Somalia has been run since 2004 by a string of transitional governments that have failed to achieve any tangible constitutional reform, political reconciliation or security, exasperating international donors and Somalis alike.
Under the roadmap, Somali political leaders will have 12 months to carry out reforms they have agreed since a deal struck in Kampala, the Ugandan capital, in June ended months of high-level bickering.
In addition to drafting a new constitution and reforming parliament, the roadmap will lay out timetables for improving security in Mogadishu and other parts of southern Somalia, reaching out to political foes and tackling rampant graft.
"I hope that all Somali people will forget what has been happening in the country and it is up to us to responsibly lead our society through a peace process and reconciliation," President Ahmed said ahead of a consultative meeting in Tuesday's conference.
At the meeting attended by local and international organizations, Mike Bowden, the UN Humanitarian chief, said drought has seriously affected the population leading some to seek refuge in neighboring countries.
The Horn of Africa nation has been under extra duress this year as tens of thousands of people have already from food shortages and a raging famine which has
spread to a sixth area in the country
.
Somalia president Sheik Sharif Sheik Ahmed, right, and the speaker of the parliament Sharif Hassan Sheikh Adam
.
Source: Al Jazeera